20 Best Electronic Gifts For Men | Top Rated Gadget Gifts
20 Best Electronic Gifts for Men - in India (Oct 2019)
There are so many amazing, caring and kind men in your life, but we rarely find the occasion to celebrate their presence. It could be your husband's birthday, dad's retirement party or brother's graduation day, wish them with the best gifts for men and make them feel acknowledged and loved.
Men love getting things done and making things simple. That's why men love gadget gifts that can make their daily life easier. After a lot of research on Amazon India, here are 20 of the best Electronic Gifts for men that will make their faces light up with happiness.
For Technology Lovers
Amazon Echo is a hands-free smart speaker that you control with your voice. The Echo uses the Amazon Alexa Voice Service to understand your commands and play music, make calls, answer questions, provide information, news, sports scores, weather, and more - instantly. All you have to do is ask. Alexa, what is the score? - and you will get an instant response. The Echo is very easy to use, and comes with a great setup manual. It hears your voice commands from across the room and is powerful enough to be heard from far as well. Any other service that connects with Alexa can be very easily integrated with the Echo. This includes - Smart Home products, Calling and Texts, Alarms and Reminders, Music and Media, Payments, Online Shopping, News, Sports and even transport services like Ola.
Going further, you can even expand the capabilities of the Echo by connecting it to more services using IFTTT.
Using the Echo is an amazing experience - you really feel like you are talking to the things around you. The future is here and you can be a part of it!
Current Rating : 4.2

★

★

★

★+
Key Features :
Has inbuilt Alexa service with numerous popular compatible apps and services

Excellent Audio, impressive command detection and instant response

Hands-free communication, calls, texts, internet searching and use of connected services
Cost : Rs. 6,999
More Models and Options :
2. Philips Hue Smart Bulbs - Mini Starter Kit
Convenient Lighting, great Ambience and Technology packaged together. This is ideal for someone that loves to have the right ambience, and be in control of the mood of the room.
The Hue Kit is a bundle containing the basics to start using it - a Hue Hub and a Hue Bulb that changes colour and brightness based on control from the App and connected services.
It works with Alexa, Google Home and IFTTT to mention a few integrations.
You can get creative and customise the way it works by using IFTTT and make it respond to weather forecasts, time, cricket scores, stock markets, your calendar, your location, your twitter, and a lot of other things.
Check out this article to
explore IFTTT
integration.
Current Rating : 3.8

★

★

★

+
Key Features :
Smart, App-controlled LED bulbs with unlimited colour options

Connects to other services like Alexa and IFTTT for intelligent functionalities

Uses light and colours for your well being - optimises lighting when you are waking up, exercising, studying, relaxing or having a romantic evening
Cost : Rs. 5,999
Also see :
The Oakter Smart Plug is a quick and easy way to enable Home Automation. It is ideal for automating home appliances and devices, scheduling them, tracking their energy usage and controlling them remotely. This is a dream come true for your workaholic friend that doesn't mind technology automatically taking care of some of his household worries. A sturdy product at a decent price, the Oakter Plug comes in variants depending on the power rating of your appliance. Don't forget to read the instructions carefully while buying and using it.
Current Rating : 3.6

★

★

★+
Key Features :
Control home appliances with your Smartphone

Set on/off schedules and timers to save energy

Quickly and easily make your home smart
Cost : Rs. 2,990
Also see :


This Wireless Smart Universal IR Controller allows you to remotely control your TV, set-top box, A/C and any other IR controlled device using your Smartphone or Tablet from anywhere, at any time. It communicates with your phone through your local wireless network, and supports thousands of remote controls of preprogrammed devices to choose from. If your device is not in the list, you can easily add it by teaching the controller the codes used by your remote for its various functions. Eliminate the clutter of several remote controls and never again worry about a misplaced remote. It also provides an all-in-one experience connecting to Amazon Alexa, Google Home and IFTTT out of the box. This is perfect for someone that uses a media room or loves using their appliances.
Current Rating : 4.0

★

★

★

★
Key Features :
Replace various IR remote controls (A/C, TV, DTH, etc) with a single device

Connects with Alexa for convenient voice control

Easily make your appliances and media devices smart
Cost : Rs. 1490 - Rs. 2,890
Also see :
For Music Enthusiasts
Move over entangled earphone wires. This is a completely cord free pair of ear-pods. They deliver a powerful sound and give you a choice of stylish colours. The earbuds along with the elegant portable charging case allow 16 hours of continuous sound and ensure long lasting comfort. They come with quick controls that are conveniently located on each earpiece, including one-click access to Siri and Google Now.
Current Rating : 3.5

★

★

★

+
Key Features :
Truly wireless bluetooth ear pods allow hands free listening and calling

Comes with an elegant and portable charging case

JBL Pure Bass sound technology gives high quality audio on the go

Connects with smart assistants like Siri and Alexa
Cost : Rs. 4,999
Also see :


Enjoy amazingly powerful, stereo sound with this ultra-compact portable Bluetooth speaker. It is powered by a rechargeable battery and delivers up to 10 hours of non-stop, high-quality playtime. It is waterproof, styled with a durable fabric exterior. From tabletop to poolside, from sunny mornings to rainy nights, this can be your ultimate all-purpose, all-weather companion.
Current Rating : 4.4

★

★

★

★+
Key Features :
Wireless Bluetooth streaming

JBL technology brings you high quality audio on the go

Waterproof and durable design

Upto 10 hours of continuous play time
Cost : Rs. 4,699
Also see :
For Laptop Users
The Vebeto backpack is ideal for students and young professionals. It is a sleek, light bag with a young-at-heart design that's perfect for school or daily travel. Made for daily use, this bag is the perfect size and is meant to carry your essentials and gadgets. With its trendy and minimalist design, this bag brings great design to your daily life, to add to your personality. It features multiple compartments to help organize your stuff, a USB pocket to charge your phone, good cushioning to protect the contents and an anti-theft design to keep your belongings safe.
Current Rating : 4.1

★

★

★

★+
Key Features :
Designed for comfort, durability and safety

Has internal compartments for organising all your needs

Comes with a slot for charging your phone at any time with your power bank

Great external cushioning and design keep your contents safe
Cost : Rs. 999
Also see :


This Laptop Cooling Pad is ideal for
someone that does a lot of designing, production or gaming.
Laptops get really hot while running these intense programs and can get damaged from overheating.
Cooling Pads like this one connect to the Laptop via USB and help the Laptop dissipate the heat and maintain air-flow by using fans.
This one comes with 5 fans with buttons for level adjustment, ensuring complete cooling across the surface of the Laptop. It also allows an adjustable height and tilt stand for working with good posture and comfort.
Current Rating : 4.1

★

★

★

★+
Key Features :
Portable and sleek - it can be carried in a Laptop Bag

Adjustable height and flow settings - ideal for good posture and Laptop health

USB powered and low sound

Blue LED lights make it look great
Cost : Rs. 1,699
Also see :


Ideal for artists and designers, the Wacom One seamlessly blends physical sketching with the digital world of your Laptop or PC. A large trackpad with a pressure-sensitive pen, this product allows artists and designers to sketch digitally without any loss of their sketching experience. The Wacom One also allows precision control along with convenient use of photo editing, painting and creative software. Think of it as a digital canvas for digital creativity and art. Available in multiple sizes.
Current Rating : 4.4

★

★

★

★+
Key Features :
Natural pen action retained - no need to change your technique for digital sketches

Easy connection to Laptop and PC via USB

Comes in various size options

Compatible with almost any PC and Laptop
Cost : Rs. 3,299
Also see :


All of us have had the need to transport our data. It may be for schoolwork, projects, personal hobbies, portfolios, company designs, prototypes, or other needs. None of the solutions are as efficient and as accessible as this portable hard drive. This external hard drive is compatible with almost anything that has a USB connection and can hold up to 1 Terabyte of data, making it capable of transporting huge archives of data at a time and even backing up your entire PC. And, it is only about the size of your phone. With a USB 3.0 port, it allows super-fast data transfer as well.
Current Rating : 4.5

★

★

★

★+
Key Features :
Plug & Play - Works with any Operating System and any Laptop or PC

High capacity - 1 TB lets you backup your entire PC

High Speed - USB 3.0 connection allows fast data transfer
Cost : Rs. 3,699
Also see :




For Bookworms and Night Owls
This new-edition Kindle is for your friend who's always reading, and stuffs most of his bag with books while travelling. The all-new Kindles are here —and they are thinner, lighter, and offer much more storage. A perfect tech gift idea for the jet-setter, or your friend who prefers to stay in and read in the bath. Help them get digital and light, with a whole kindle e-book store available to them.
Current Rating : 4.3

★

★

★

★+
Key Features :
Slim and compact device

4 GB of space holds thousands of books. It is a portable library.

Download books directly from the internet

Long battery life and minimal eye strain
Cost : Rs. 6,249
See the full range :


An ideal addition to the desk of someone hustling by night - whether it is reading, studying or writing. The quality and strength of reading light can help keep their eyes protected and minimise the strain, allowing them to get so much more done. This Night Lamp has an inbuilt dimming and light colour switching options, giving the user a convenient feather-touch control. Its flexible gooseneck design allows adjustment to the right position, and light colour options of Warm Daylight, Neutral White and Warm White make sure that any user is comfortable.
Current Rating : 4.6

★

★

★

★+
Key Features :
In-built LED dimming and soft light control

3 light options for different needs and activities

Adjustable stand for the best position and comfort

Feather-touch control for quick change of settings
Cost : Rs. 899
For Entertainment Buffs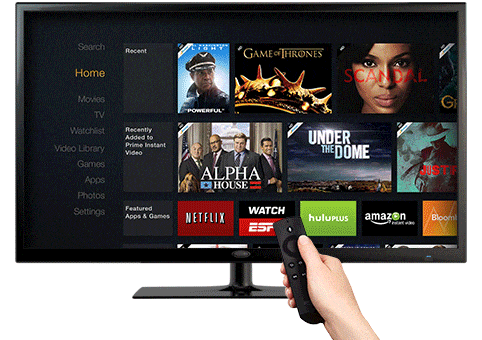 The Fire TV Stick connects you to a host of online media and entertainment. With over 2000 apps and services, watch thousands of films and TV shows on your HDTV. The Alexa Voice Remote can easily find, play, and control your content. Simply say "Alexa, find action films" and Alexa will show you results. The box contains an HDMI plug-in stick that you connect to your TV and a remote that you use to control the media. It connects to your WiFi and streams media through the various apps installed.
Current Rating : 4.3

★

★

★

★+
Cost : Rs. 2,799
Also see :
The AnyCast is a WiFi Display Dongle, best used to mirror your Smart Phones / Tablet PC / Laptop screen any other HDMI devices (like HDTV, Monitor & Projector, etc) through Wi-Fi connection. It Supports Popular standards like Miracast, DLNA and Airplay, making it compatible with almost any of your personal devices. The dongle supports video streaming, web surfing, photo viewing, Internet video and more, making it easy and convenient to make presentations, view videos or even operate personal devices from a larger screen. It comes with several inbuilt apps like Gaana, Youtube, Browser and more.
Current Rating : 4.2

★

★

★

★+
Key Features :
Screen mirroring - projecting your Smartphone, Tablet or Laptop screen onto your HDTV

Ideal for presentations and pitches - simply plug it into a projector or Monitor and use with your Smartphone

Compact and portable - it is the size of a USB stick and can be carried in your pocket

Easily connects to WiFi for remote functionality and use of streaming apps
Cost : Rs. 1,299
Also see :
For the Impeccably Groomed
This is for the perfectly groomed men out there. An elegant tool to keep your style in shape. This powerful trimmer allows you to trim safely, in or out of the shower with two adjustable guards and a cleaning brush. The Ustraa Chrome 300 also comes with a slick LED display on the front panel that indicates battery levels. The blade is 39% wider than standard trimmers and it packs a powerful Li-Ion battery with fast charge capabilities. A perfect upgrade to your grooming arsenal.
Current Rating : 4.5

★

★

★

★+
Key Features :
High capacity Li-Ion batter with fast charging option

Well designed blade and combs for comfortable and accurate trimming

Sleek LED indicator on the front panel

Durable and strong stainless steel build
Cost : Rs. 2,499
The 5X LED Magnifying Mirror offers optical clarity while you groom. The mirror comes equipped with an LED back-light for a bright view of your face. The unit can be wall mounted and it features a smooth 360 swivel design. The extension arm and smooth rotation adjusts to all angles for a dynamic point of view. It works with a plug-in design and has a sturdy and durable build. This is perfect for that impeccably groomed man and the guy with the chiselled beard.
Current Rating : 4.0

★

★

★

★
Key Features :
Powerful 5X magnification for grooming

Just the right amount of light for clear visibility

Durable and easy to install
Cost : Rs. 4,899
Also see :
For Fitness Freaks
This the latest trend in fitness and training. This watch helps you to do very unique things. It measures your heart rate along with intensity of your workout to calculate how many calories you burn. It also tracks your sleep patterns and links it along with your workout patterns to help you with your fitness goals. It is extremely easy to use, can be easily recharged on its docking station and also looks great with your outfit - whether casual or formal.
Current Rating : 3.3

★

★

★

+
Key Features :
Heartbeat, calorie burn and fitness tracking

Sleep pattern tracking

Connects with your Smartphone for notifications, calls and apps

Connects with Fitbit App and provides analytics and lets you set goals

7 day battery life
Cost : Rs. 9,999
Also see :
The AI-powered Actofit Smart Weighing scale is the perfect addition to any household. Track 15 different body parameters with its best in class technology. The App connects with the device and gives personal recommendations according to your body type and body composition. Get graphical progress charts on the Actofit Smartscale app to map out the smallest of progress with the Advanced AI Powered Technology and health chatbot. It also has an in-built Body Fat Analyser and Protein Monitor. The analytics and reports from the App will keep you on your fitness plan and leave you looking fabulous.
Current Rating : 4.3

★

★

★

★+
Key Features :
Measures weight, BMI, BMR, Body Fat and more fitness parameters

Connects with the App to give you analytics on your fitness

Comes with a coach feature that gives you tips and supports you based on your fitness analytics
Cost : Rs. 4,999
Although this seems out of place at first, the Inalsa Instant Egg Boiler is an ideal gift for that fitness-crazy guy who needs his proteins. It is a unique appliance that helps you automatically boil eggs in minutes with 3 modes. It comes with stainless steel body and flat heating plate which accommodates up to 7 eggs at a time. The portable design of the appliance makes it ideal for homes, hostels as well as hotel rooms.
Current Rating : 4.4

★

★

★

★+
Key Features :
Automatic egg boiling with 3 modes - hard, medium and soft boiling

Easy to use, one-touch operation after adding eggs and water

Automatic switch off after operation is complete

Durable and widely used, comes with a warranty
Cost : Rs. 1,170

We are registered Amazon Affiliate Partners. All recommendations are unbiased and genuine.
No image copyrights are owned. We are in no way connected to the sellers of the recommended products.